1. Name: Lycia

2. Age: 17 almost 18

3. Location: by the beach

4. Marital Status:


5. Zodiac Sign: taurus

6. How you found us: Em commented to me with thte banner

7. What is your favorite sound? / What is your least favorite sound? my favorite sound would have to be like anyone singing with extreme passion, wow that's lame haha. my least favorite is when people drag out the "s"'s like in sssaint mary'ssss.

8. What smell do you love? / What smell do you hate? i love the smell that comes out of the dryer vent. i hate the smell when you stick your finger in your belly button and sniff it. don't do that!

9. What profession do you want to go into? / What profession would you avoid? i want to be a forensic psychologist. i want to either be a criminal profiler or actually work with criminals in mental hospitals or in jails. after i have kids and stuff i want to change to being a counseler for girls and women who have had abortions. i definatly want to avoid becoming a kindergarten teacher haha.

10. Describe yourself in your own words. Well, I'm crazy and fun to hang out with. I'm up for anything and i love trying new things. I don't like change most of the time. I'm shy until you get to know me, then I'm really loud. Alot of the time I don't like myself and i have low self esteem. i'm very loving and caring, although sometimes i have a hard time showing it. I'm very dependent on others, i need people around to love me. on the contrary i'm unique and i like to be my own person. i aspire to become more than i am. i'm straight edge but i don't preach it. i'm agnostic as of right now, still working out my beliefs. i'm a sexually open person, meaning i'm not shy about it and i'm attracted to both sexes. yea i guess that's it.

11. What do you look for in a partner? they have to be caring, fun, interesting, someone i can talk to, someone who has respect for themselves, others, and me. someone who isn't afraid to express themselves and be who they are no matter what. someone who knows who they are and what they want in like and love. also someone who shares similar life plans with me.

12. If you could change something about yourself, what would it be and why? i would change whatever it is that causes me to always screw up friendships and relationships, the reason is pretty self-explanitory.

13. What are some goals you want to accomplish in life? i want to graduate college with my phd some day. i want to be a successful forensic psychologist. i want to be happy above rich, but money is cool too. i want to marry the love of my life and have children and raise a beautiful family. if i can change the world in some way before i die i will be satisfied with my life.

14. If you could be one person for a day, who would you be and why? i guess i'd be any guy just so i can go out and fuck a girl hardcore. haha i'm gross.

15. Who is your role model and why? my role models are my parents. they are happy and in love after almost 25 years of marriage. they almost never fight and they have gorgeous kids ;) they are the perfect couple. that's how i want my marriage and family to be.

16. Please give a full explanation of your opinion on four of the following topics. Please be specific in you reasoning....

i. Abortion this is a tough one. it's really hard for me to say that it should be illegal because i know how it feels in the situation of having to make that choice. i think it should be legal. you have no idea what it is like until you've been there. i was so pro choice before i got pregnant at 15. can you imagine that? in 10th grade and dating a cheating, lying, asshole. you have no job, you want to finish school, your family has no money, you have bipolar and borderline personality disorder, the meds your on have probably already harmed your baby and if you go off them now in order to save the baby it is very likely that you will go nuts and kill yourself and the baby. what would you do? just try and think about it from a different veiw.
ii. Gay Marriage i do not believe that it's right to deny anyone their rights. just because it is not exactly marriage in the biblical sense doesn't mean that the state should not recognise the union of two people in love as legal marriage.
iii. Death Penalty i don't believe that it is right to kill anyone for any reason. how is it justice to put someone to death as a punishment for that person killing someone?! it's like "hey! you stole my cookie! that's wrong! ::steals your cookie::" i mean, hello?! let the fucking sickos rot in jail anyways! it's just not right. and so many innocent people die and that's really sad.
iv. Abuse (physical, emotional, or mental)
v. President Bush
vi. Teen Pregnancy
vii. Teen Violence
viii. Separation between church and state (or lack there of)
ix. Censorship
x. Drugs/Alcohol I believe that the abuse of drugs and alcohol can ruin lives. i've seen it happen and i've experienced it. i have recently stopped using drugs and have become straight edge. i'm really happy about my decision. people depend on drugs to make them happy, make them forget about reality. i don't believe it's healthy to spend your life in an altered reality. you can't really live that way. drugs are very dangerous and it is so sad how many lives are ruined everyday by them.
xi. Tony Blair
xii. AIDS Epidemic
xiii. Israel and Palestine conflict
xiv. Homelessness
xv. Monarchy/Patriarchy vs. Democracy
xvi. War



17. Pick a passage/line/lyric from your favorite book/poem/movie/song, paste it here, analyze it and explain why it's important to you. "And you can't jump the track we're like cars on a cable and life's like an hourglass glued to the table" basically it means that you can't go backwards and you can't change the past. you can't stop time, life is happening right now and you have to live your life to the fullest before it's too late. to quote one of my favorite movies, "this is your life and it's ending one second at a time" or something like that.

18. Pictures please. Remember, no nudity or suggestive content.
Sorry if these are big.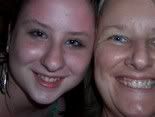 me and mom



senior semi



::gasp:: it's a mod!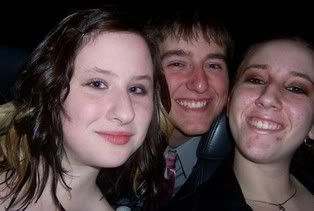 more modness



even MORE modness!



How cute was I?!